NLP, or Neuro-Linguistic Programming
, was founded in the early 1970's by Richard Bandler and John Grinder. The two men studied three different master therapists and, using what they observed, created a system that helped practitioners become aware of the commonalities found in human interactions. NLP essentially helps organize the complex patterns inherent in human communication. So, naturally, it has become a large part of the seduction community.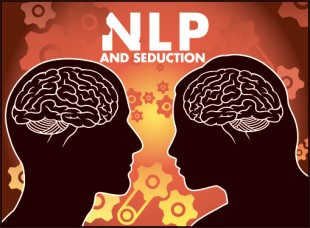 Neuro-Linguistic Programming has always had a deep-rooted connection with the social arts. Many gurus make outrageous claims about its power while other gurus ignore it completely. The question is, does NLP work and what is its real value in the art of pickup?
For the most part, the term NLP has been misused in the seduction community. The original intention of NLP was as a tool for therapists to help them communicate with patients. Generally it's confused with hypnotism, when in actuality it is a method for effectively conveying thoughts and emotions with someone; in other words, creating a shared perception of reality.
NLP's greatest asset to a pickup artist is its comfort-building technology. Building comfort is a lot like being a therapist, in that you're trying to create an atmosphere where she feels safe enough to share personal stories with you. However, unlike a therapist, you will be sharing your stories with her in an effort to build a strong emotional connection.
Modalities
If you were to sit down and describe a scenario to someone, how would you describe it? Most people would talk about the sights, sounds, and feelings associated with the scenario they were describing. These senses used to describe the situation are representational systems. Each person has a primary, secondary, and tertiary representational system that they use to communicate. Someone whose primary modality is sight will use visual words to describe a situation. They will use phrases such as, "I see what you mean." Or, "I'm looking into it." While people whose primary modality is sound will use phrases like, "I hear you." Or, "That rings a bell." Many therapists who use NLP in therapy claim that communication between two people who are of the same modality will be much stronger; the two will more easily understand each other. Conversely, if they have differing primary modalities, like visual and emotional, then it will be much harder to understand each other.
Learning to effectively use modalities can help the aspiring social artist communicate with a woman while building comfort or attempting a seduction. The key is to listen to the words she uses when telling a story and decide whether they are based on sight, sound, or emotion. Once you decide which representational system they use most, respond in the same modality. With practice, the seducer should notice that the target
is much more responsive to everything being said.
Anchors
When sifting through the endless amount of information that makes up the seduction community, you will undoubtedly find mention of "anchors." An anchor is anything that a state or frame of mind is linked to. For instance, when you hear the music that was on the first time you had sex, it will trigger memories of that experience. It's relatively simple to create anchors that get you into a specified state. The method is as follows: Each time you're in a positive state, like when you're feeling confident, powerful, or happy, you'll take two fingers and put pressure on your wrist. Remember to repeat this every time you're in the same state. The point is to "anchor" the feelings you have to this spot through repetition. The theory is that after this state has been anchored, you'll be able to touch your wrist and trigger that positive state.
Patterns
Patterns are pre-written scripts that use many of the NLP principles to indirectly convey a specific message or trigger a specific feeling in the recipient. If you've been in the community for long, then you've probably heard a number of them mentioned. Some examples are "The Natural Woman Pattern" or "The October Man Pattern." These patterns are easy to find and read, however, they are not very useful without an understanding of the principles at work behind the scenes. Each pattern was meant to be read aloud in a very specific way, with specific pauses, inflections, changes in tonality, and body language. If you plan on getting into patterns, be sure to pick up the book Introducing NLP by Joseph O'Connor and John Seymour. This seminal book works as a great text for learning NLP and contains all of the principles you will need to know to run a pattern.
NLP, as far as the social arts are concerned, should not be studied as your sole method of attraction. Its best place is in comfort-building and seduction. NLP can easily increase the effectiveness of routines like The Cube, Strawberry Fields, and Style's Eliciting Values, because it teaches you to listen in ways that many men do not. If you are planning on getting into NLP for the purpose of pickup, a good suggestion is to begin with a basic psychology text and an introduction to magic – specifically misdirection. Derren Brown's book Tricks of the Mind is a great introduction to the psychology of magic and mind games. NLP is a complicated pseudoscience, and can take years to master. However, understanding NLP's basic principles will certainly level up your game and give you a greater understanding of how you and the women you meet communicate. Since communication is the key to every interpersonal relationship, there's no doubt that NLP is an art that any aspiring social artist should at least investigate
.
Here's a great video of Darren Brown performing some pretty interesting pickup techniques:
Related Stories from The Inner Circle
A Lesson in Frame Control
Social Strength: James Bond Style
Three Ways to Start Improving Your Game