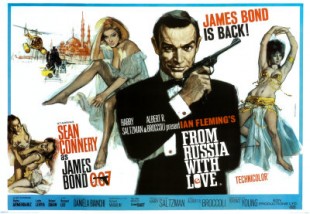 James Bond has been a role model for me almost my entire life. I often turn to him when I need motivation or inspiration, especially when it comes to the social arts.
Earlier this week, I was watching Goldfinger, one of my favorite Bond flicks. And I was thinking about what made him so interesting
to me. Aside from the guns, cars, money, and travel – what was it about him that I enjoyed so much?
One reason is that, socially, he is able to convey strength in many different ways: He's to-the-point, he knows what he wants, he follows his own rules, and he's never indecisive.
I decided it would be fun to explore a few ways to convey strength socially, so that you too can start building a James Bond-level of charisma.
Have preferences
Know exactly what you like and what you want. If someone asks you about a preference – like your favorite drink, movie, or band – have an answer.  If you find yourself saying, "I don't know" or "I'm not sure," then I suggest taking some time to find out what your preference on that topic might be.
Here are some topics to start with:
Favorite beer
Favorite wine
Favorite liquor
Favorite movie
Favorite band
Favorite restaurant
Favorite bar
Have reasons for your views and preferences
You should know why you like what you like. Be sure that you have a reason for each one of your preferences. Tell a story, and give a few examples that explain your preference. This will not only show strength, but also help boost your value.
Stick to your guns
If she doesn't like one of your preferences, don't change your
opinion to match hers.  Small differences build tension, and give you opportunities to tease each other later on.
Make a decision
When moments of confusion or indecision arise, be the one to make a decision for the group.  Even if it's not the best plan, it's better than letting the group's energy drop due to indecision.
Have personal rules
Let people know that there are some things you won't tolerate. Be sure that you also know why you won't tolerate those things; be sure they're good reasons.   "Because I said so," is not acceptable. For instance, I don't mind a girl who smokes, but I won't let anyone do it in my car or house.
Be a leader of men
Here are a few ways to show your leadership skills. First, practice speaking clearly and with authority and second, use storytelling to let people know about a time you've taken charge and led people.
Related Stories from The Inner Circle
A Warning to Fools
The Jinx Opener
The Universe Is Not Cruel