As I'm sure many of you know already, you can be your own worst enemy when meeting women.
You know that little voice inside your head that always says "Don't!"
It speaks when you're about to approach a woman for the first time and it says "Don't go talk to her, she won't respond." It speaks when you meet a group of women and says "Don't keep talking to
them. They don't like you. They don't want you to stay." It speaks when you have a woman alone after a first date and says "Don't try to kiss her, she's not attracted to you."
This "DON'T VOICE" is the sum of your insecurities crying out from a dark place of fear buried deep in your mind.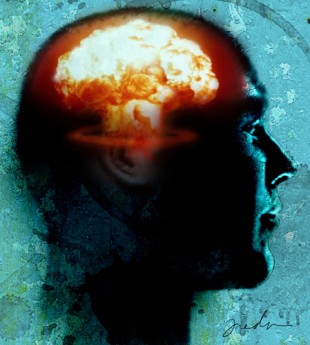 Women feel comfortable with men who are confident and humorous. Women feel comfortable with men who start a conversation that is fun and exciting. Women feel comfortable with men who really try to understand and get to know them better. Women feel comfortable with men who know when it's the right moment to kiss.
But your "DON'T VOICE" lies to you and tells you the opposite. It makes you unattractive. If you could shut that voice off and always just go for it you would improve your skills with women. You'd be like that one guy you know who always gets the girl.
The one who women describe as "There's just something about him." But it's not that easy, is it? That little voice is hard to stop. It was created from lifelong conditioning. It started with your parents. Then throughout your life people told you, "Be careful. Don't take risks. Play it safe." And now you've heard it so many times that this negative voice is a part of you. Any man who ever tries to approach a woman knows this voice well.
We call it Social Anxiety or Approach Anxiety.
We've made it our mission to QUIET that little voice in our heads; to push past the anxiety and the uncertainty of approaching and attracting women. Stick around and we will take you DEEP into your own mind and teach you how to eradicate your fear of starting a conversation, your fear of socializing, your fear of making a move, and your fear of asking for her number. We're going to discuss what exactly that little voice is in our minds and… …how to BEAT it once and for all.
To be continued…
Today's post comes courtesy of Evolve and Sneak, two of our expert coaches at Stylelife. If you want more sage advice, visit Stylelife at any time. Enjoy…