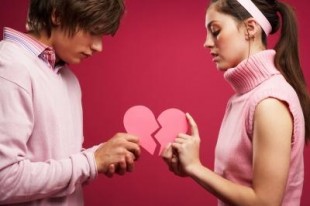 I couldn't make her understand. There were tears in her eyes.
She did not want me here, pleading in her bedroom. She wanted me gone.
But if I was here, then I wasn't alone yet.
We broke up before and we got back together. We broke up and we got back together for two years. But this tasted like the end, acidic in my throat.
"How would I become the guy without the girlfriend?" the thought of it hurt. The suffocating idea of the loneliness crept around me as I wept out her door, down her stairs, home.
That night ended. The lines I should've said to her rolled through my head like a twenty-four-hour scrolling LED sign. Then emptiness, rejected, cold bed, piles of laundry, stale air of never leaving the house, and so my life began again without her.
I stayed busy. I called the buddies I'd neglected for years to be with her. We went into the unwelcoming weekend jungles of bars and clubs. We got drunk and rolled the dice, missing more than we ever hit. I played World of Warcraft
until I could level no more, then I started another character.
Still, she haunted me. I found her hair on my pillowcase. This song or that song, or every song was the one she loved. Her Facebook said "single" now. All I had of her was the pain, and I wasn't letting go. The hole she once filled was all I had left, and willingly I fell into it.
Then I found a book shaped like the bible. I opened it because I didn't believe its title, The Game: Penetrating the Secret Society of Pickup Artists. I read it in two days. Chandeliers of ideas exploded in my head. The question was, "Would it work on her?"
-Ring-Ring-Ring-
"Hello."
"Hey, it's me."
"I know."
"Pick a number between 1 and 10 but don't say what it is."
"Um…OK."
"It's 7, right?"
"Yeah, what!? How did you…"
"I think I'm becoming psychic."
"Whatever. No you're not."
"Yeah, I went to a palm-reading lady. She had me do this personality test called The Cube. I think it made me psychic."
"Really? What was it?"
"Well, it's called The Cube. It tells you all about yourself in a few questions. So first question…"
We met at a coffee shop. I demonstrated high value, I disqualified, I showed pre-selection, I built jealousy plot lines like the ancient Egyptians built pyramids. To her, I was an all-new attractive me, fresh off the showroom floor.
We got back together! We watched movies, ate dinner, took road trips, and screwed like rabbits on the night before bunny Armageddon.
It did not last. I had only whitewashed the exterior of the rotting house of our relationship. We had hurt one another too much to ever build anew
. And this last breakup set our home on fire. Our burning words scarred our memories of each other forever. We never talked again for many years, and then only at a distance in sparse words.
I know, I know, many of you had one like her. You're broken for her. And so it goes that I am asked, "Can I get her back?"
Yes, you can.
Good game can do it. But it does not matter if you do. It will self-destruct. There's too much hurt around you both to make it right. And even as you read those words, you denied their truth.
It takes hard work, my friend, to move on from the love who crushed you. In time it will pass. I will give you now the real prescription…
Do not contact
her. Remove reminders of her from your sight. Un-friend her on Facebook. Take yourself out of her life, not forever but for right now.
Read the teachings of the pickup artist community. Rebuild yourself. Put in the time to become a better you. Mold yourself into the man you want to be, a man able to approach any woman, a man with the girlfriend of his dreams.
Date ten other women and ask yourself if you still want her back.
You'll see her again someday. When you do, make her wonder why she left you.
************************************************************************************
Now, so many years after the hurt is over, I am glad I had her. I'm glad she ripped a hole in my heart. Without losing her, I wouldn't have read The Game. I wouldn't have become a pickup artist. I wouldn't have met and worked for Neil. I wouldn't have had the courage to chase my dreams.
I urge you to embrace your pain. Make it the fuel that ignites the fire of your self-improvement. Thank you, Marlene.