The handy glossary provided in The Game defines the term "kino" as "to touch or be touched, generally with suggestive intent." Men who strive to improve their social lives spend hours studying kino escalation and other techniques to employ in nightclubs and coffee shops.
But what may surprise many people is that the positive benefits of kino are not limited to romantic male-female interactions.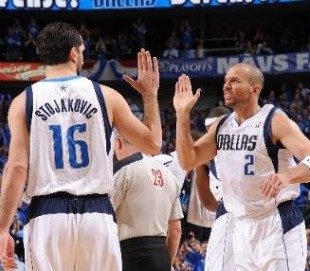 The Wall Street Journal reviewed the first three games of the NBA Finals and discovered
that players on the Dallas Mavericks touched each other 250 times while the Miami Heat ballers only made contact 134 times.
The article references a study from the University of California, Berkley that "concluded that good teams tend to be much more hands-on than band ones. Teams whose players touched the most often were more cooperative, played better and won more games."
At the time of the WSJ article's publication, the NBA Finals were tied with each team boasting two victories. As we now know, the Dallas Mavericks went on to win the following two contests and become NBA Champions. Sports pundits have said that the solid bond and team aspect of the Mavs was a key factor in defeating the more talented individuals on the Heat.
So what can we learn from this discussion?
First off, kino shouldn't be limited to chatting with a woman in a nightclub. You could use physical contact
in the workplace, on your recreational softball league, with family members, or in any other setting. It goes without saying that the touching should always be appropriate for the environment. But the takeaway should be to look at how you interact with people, regardless of your relationship with them.
Dallas Maverick forward Brian Cardinal is quoted in the WSJ piece as saying, "It's all about positive reinforcement." And couldn't we all use a little bit more of that in our lives?
Second, the higher amount of touching amongst the Mavs contributed to a perception of teamwork and camaraderie that sports fans all over the country found incredibly compelling. Observers said throughout the series that the Mavericks were fun to watch and easy to root for in their bid to win a championship. They seemed like good guys who enjoyed working together.
In the same way, people in a bar or restaurant will view your group more positively if kino is used effectively. A nearby table of diners will look at your group and smile, they'll think "Those people really seem to be having fun and to like each other." So in this way, kino serves as a way to create additional social proof throughout the venue.
As with everything in the game, calibration is key. You don't want to become that creepy touchy-feelie guy. But, if you use it effectively, kino and physical contact
will help you become a better teammate and to be more successful in your social ventures.
*
Related Stories from The Inner Circle
Women, Beware!
If You Think You Don't Have Time
The Meaning Of Life, The Secret To Happiness, and Wii Tennis