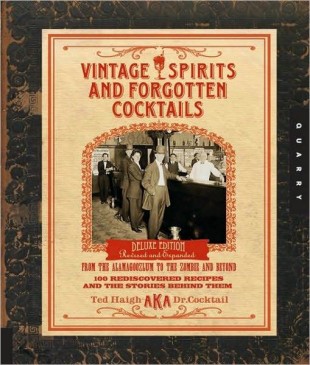 Recently I came across an interesting book on forgotten cocktails. Besides the obscenely long title, Vintage Spirits and Forgotten Cocktails: From the Alamagoozlum to the Zombie 100 Rediscovered Recipes and the Stories Behind Them, it reminded me of something I've been meaning to share with you…
My new favorite thing for small house parties is to choose 3-5 recipes from this book, then buy the ingredients. (My brother, who bought me the book and evidently has more industrious peers, has his friends each bring an ingredient he assigns them to the party.) Before the guests arrive, I set up small cocktail stations, with the ingredients for each cocktail, a print-out of directions for each one, and small glasses. Then I have a cocktail-off, and each group makes their assigned cocktail. Everyone tastes it, and the cocktail voted the best wins. It's a great group activity, and definitely gets everyone buzzed. Here's some detailed advice for amateur mixologists, courtesy of my brother:
Try the Corpse Reviver #2. So good! Lillet is a fortified wine that is easy to find. If you don't have Cointreau, don't worry since a cheap Triple Sec works fine since there are so many flavors that wash out the tastiness of Cointreau.
I rarely use Cointreau in recipes since it is so pricey. Triple Sec is usually good enough, at least when trying a new cocktail. However, I like using Mathilde Orange even though people say it is a lot different than Cointreau.
1. The Lower East Side Manhattan
2oz whiskey, rye, or bourbon
2oz sweet vermouth. Get a nice vermouth if you can. I like Dolins, but don't know if it is carried in CA. (It's about $15 for 750ml)
1 dash of Angastora bitters
1 dash of peychauds bitters (if you don't have this, just do another dash of Angostura)
1 dash of celery bitters. This adds a nice touch. Without it, it's a Manhattan, which is also good.
Stir in a rocks glass with a few big ice cube. Top with lemon peel.
2. Bee's Knees Cocktail
1.5 ounces gin
1 ounce lemon juice
1/2 ounce honey
2 teaspoons fresh orange juice
Heat honey in microwave for a few seconds so that it is soft (but not very hot). Shake all ingredients in a cocktail shaker with ice and strain into a chilled cocktail glass.
3. Between the Sheets
1 oz. Brandy
1 oz. Cointreau (can use a cheaper orange liquor like Triple Sec, but Cointreau makes it better)
1 oz. gin
.5 lemon half a lemon juiced
Shake and strain into chilled cocktail glass. Garnish with lemon peel.
4. East India Cocktail
3 ounces brandy
1/8 ounce raspberry syrup or grenadine
1 dash angostura bitters
1 teaspoon curacao
1 teaspoon maraschino liqueur
Method
Shake in an iced cocktail shaker, and strain into a cocktail glass. Garnish with a cocktail cherry.
5. Exploding Sidecar
1 oz. Brandy
3/4 oz Cointreau (can use a cheaper orange liquor like Triple Sec, but Cointreau makes it better)
3/4 oz. lemon juice
orange peel, garnish
Shake and pour into rocks glass with ice. Garnish with lemon peel.
6. Mai Tai – so many Mai Tai recipes, but this is one of my favorites
2 oz Appleton Estate Rum (Use this rum or one similar- cheap rum is okay, but Appletons makes this better)
1/2 oz Ogeat Syrup (this is almond syrup. If you can't find it at a liquor store, got to an Italian Market)
1/4 oz Simple Syrup
3/4 oz Orange Curaçao
1 whole Lime – Juiced
Shake & pour into rocks glass over ice. Garnish with orange slice & maraschino cherry
7. Next To Last Word
1 oz Gin
1 oz Cherry Heering (this might be harder to find, but you have to use this)
1 oz St Germain
1 oz Lemon juice
Shake & pour into a chilled cocktail glass. Garnish w/ a lemon peel.
8. Ramos Fizz
1 tablespoon lemon juice
1 tablespoon lime juice
1 tablespoon powdered sugar
1/2 raw egg white (make sure that your egg is fresh!)
2 dash orange flower water
1.5 oz. gin
2 oz. cream or half and half
seltzer
shaved ice
Blend all ingredients except seltzer. Add a splash of seltzer before serving. Serve in rocks glass.
9. Stone Rickey
1.5 ounces Gin
.5 ounce lime juice
.5 ounce orange juice
.5 ounce simple syrup
tonic water
Pour the gin, lime, orange, and simple syrup in a highball glass three-quarters filled with ice. Fill with club soda and stir. Garnish with mint or orange slice.
10. Tangerine Martini
2 ounces gin or vodka
1.5 ounces lillet
2 ounces tangerine juice
.25 ounce simple syrup
Shake & serve in chilled cocktail glass
11. The Scofflaw
1 1/4 ounces whiskey or rye
3/4 ounce dry vermouth
1/2 ounce lemon juice
1/2 ounce grenadine
1 dash orange bitters
1 twist lemon
Method
Shake & strain in chilled cocktail glass. garnish with lemon peel.
12. Sazerac
This is supposed to be a small drink. No ice goes in the glass.
1 teaspoon sugar
3 or 4 dashes Peychaud's Bitters (or Angostura if you don't have Peychauds)
a few drops water
2 ounces rye whiskey (such as Sazerac Rye)
1 teaspoon Herbsait, Pernod, pastis, or absinthe
lemon peel
Chill a rocks glass or small tumbler in your freezer.
In a mixing glass, combine sugar, Peychaud's Bitters, and a few drops of water. Mix until sugar is dissolved, and add rye. Add plenty of ice, and stir for about 30 seconds.
Pour Herbsaint, pastis, or absinthe into your chilled glass, and rotate glass until the inside is well coated; discard the excess. Strain the liquid from your mixing glass into the serving glass. Twist a piece of lemon peel over the drink. Indulge.
13. Trinidad Sour
1 oz Angostura Bitters – this uses tons of bitters so make sure that you have enough.
1 oz Ogeat syrup
3/4 oz fresh lemon juice
1/2 oz rye
Shake & strain into chilled cocktail glass
14. Corn n Oil
1.5 oz dark rum
1.5 oz Falernum
fresh lime wedge
4-5 dashes bitters
Shake & pour into chilled cocktail class. Squeeze in juice from lime wedge & garnish glass with the wedge
15. Cable Car
1.5 oz Spiced Rum
3/4 oz Curacao
1 oz lemon juice
1/2 oz simple syrup
Cinnamon-sugar mix for rim of glass (make up amounts, usually turns out perfect. More sugar than cinnamon
Moisten rim of cocktail glass with lemon and dip in cinnamon/sugar mix
Shake & pour into chilled cocktail glass
16. Blood & Sand
3/4 oz orange juice
3/4 oz Scotch
1/2 oz cherry flavored brandy
1/2 oz sweet vermouth (again, I like Dolins)
Shake & serve in chilled cocktail glass.