Think your iPad
just isn't feeling the Tacitcool love?
Your wait may be over. Meet the Hazard 4 Launch Pad a iPad mil-spec sleeve – $37.99.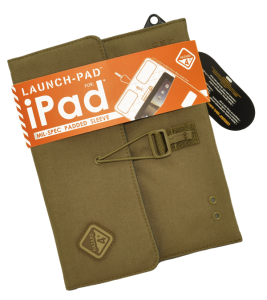 From the manufacturer:
While there are lots of cases and sleeves for the new Apple Ipad there are none like this one. As a likely professional or casual mil-spec gear buyer you will have a lot to love about this functional and/or fun new product. It starts off with a carefully sized fit to accomodate both the Ipad on its own or with a thin plastic over-case. The design is rendered in DuPont Cordura and has generous padding without being bulky. The interior uses our cool new soft-touch material to protect your Ipad's finish and screen. The material is also quilted and colored like the padded interior walls of heavy transport aircraft.
The entire back surface of the Launch_Pad is covered with MOLLE (PALS) modular webbing for attaching compatible containers such as larger pouches to store anything from digital cameras
, to the Ipad's charging brick and cable to smaller pouches for carrying the photo-kit reader, usb cables, flash-drives and mil-spec items like foldingknives/multi tools, water bottle pouches, etc. The back also features a wide Velcro hook-loop patch area for attaching morale patches like country flags etc. or our Hazard 4 (R) 3-D rubber patch collection.