Power outages – even short ones – can be a real pain. However, they are not just inconvenient. Loss of electrical power can leave you blind in the middle of the night. It's easy under these conditions to fall down, bump into things, and break bones.
Here are two emergency power failure lights to keep you safe when the lights go out.
RL435 Power Outage LED Light, 2-Pack, $37.34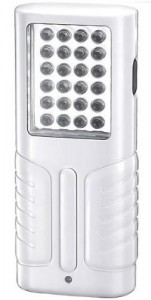 The Durofix RL435 Li-Ion 3.6V Plug-in Power Outage LED Light is a two-pack of emergency standby high efficiency LED lights. If you have ever experienced a power outage you know how difficult it is to find a safe light replacement quickly. As soon as a power failure occurs, the 24 powerful LED lights, with a candlepower of 600, automatically come on and stay on continuously
for up to 8-10 hours. A three mode switch allows you to set them to all LED's on, half LED's on, or power off mode. The charging process takes about 8-12 hours and turns to stand mode after fully charged, ready to run at a moments notice. They plug into any standard outlet without an additional adapter. Durofix is a new brand for the 21st century that manufactures durable power tools for a wide variety of applications, in the workplace and at home. They believe that by concentrating on innovation and quality they can deliver a friendly and satisfying experience in power tool usage. They believe in designing creative, compact and comfortable power tools for users' optimum operations. They strive to develop the era of Durofix 3C tools together with their customer. The sole goal for Durofix is "To be respectable, responsible, reliable, and intelligent" and promise to provide effective and efficient energy conversion products and services to their customers.
Plugs into any standard outlet
Unit have a Three-mode switch: All LEDs On, Half LEDs On, Power Off
Charging Time: 8-12 hours
Weight: 185g
Input Voltage: 120V A
Sylvania 72032 – LED Sensor Power Failure Night Light, $10.70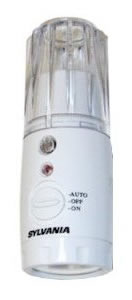 The Sylvania Power Failure Light offers bright LED illumination during power failures. It is always charging while plugged in. When it senses a loss of power, the LED night light automatically comes on to light your way for up to 3 hours while still in the outlet. Or, take it out and use it as an LED flashlight. You'll never get left in the dark.
Sylvania A Brand Leader In LED Light Technology
LED Nightlight
LED Power Failure Back-up Light
Rechargeable 3 LED Flashlight
Fully Automatic Day/Night Sensor