Smoke alarms just became outdated. Sure, the ones you have at home will sound an audible alert and warn you of fire. What if you are not home? How about a smoke alarm that can send you a text message when it detects fire.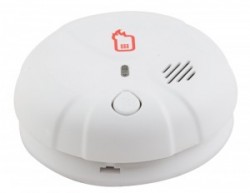 The Firetext works like most modern smoke alarms. You install it and check on it regularly to ensure proper operation. Where it departs from the norm is its ability to send messages to your cell phone
about an issue. Should the alarm ever be tripped, it will text up to 4 recipients.
From the Firetext Website:
Product Description
Battery powered SMS Smoke Alarm. Upon activation the alarm generates a user-defined text message which can be sent to a maximum of 4 mobile recipients.
Photoelectric smoke detection, ideal for smoldering fires
Quad-band GSM
2 year guarantee
Super-loud ,85db at 3m siren
All fixings supplied
Quick-fix mounting plate supplied for easy installation
Insect proof
Smoke detection complies with EN1406, AS3786 and UL217 standard
CE, BSI, SAI Global approved
Low battery warning (audio)