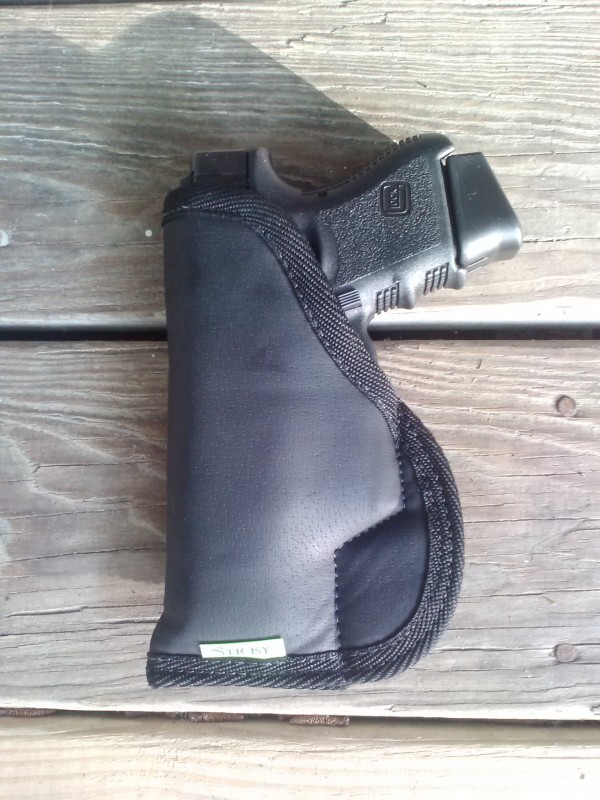 Concealed carry can be a challenge, especially in the summer months when heat is a factor and jackets or coats are not worn. I would love to carry a large .50 caliber handgun, though I have no way to effectively conceal it when wearing board shorts and a T-shirt.
Enter the Sticky Holster.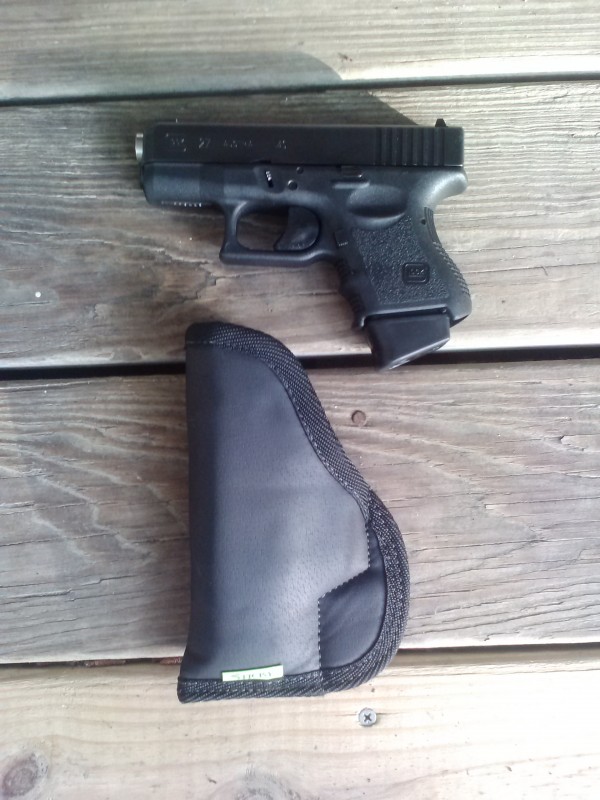 The Sticky is an inside-the-waistband holster that safely secures a handgun while adhering to the inner fabric of pants or shorts. When necessary, the gun can be drawn while the holster "sticks" in place. Earlier I joked about carrying a .50 cal in board shorts, but I can say in all seriousness that more than one of my friends carries a weapon when wearing swimming-trunk style attire and running up and down the highways along the beach. The Sticky Holster makes it work.
Sticky Holsters offer flexibility in that they can be used ambidextrously. They can be worn in the front, side, or back of the waistband, and transition easily. They offer protection when the gun is a glovebox or under a car seat. Most people start out with a Sticky Holster for one of their smaller handguns, then end up buying one for each gun in their collection.
Stickys cost less than $30, and though they will show signs of wear over time, they hold up pretty well. Mine has been in use for more than a year and still looks good. The company website, www.stickyholsters.com, offers a Find-Your-Gun application that will help with sizing.
For the money and ease-of-use, I strongly recommend the purchase of a Sticky Holster. The holsters make concealed carry much more practical, which in turn makes law-abiding gun owners safer. These holsters have definitely increased my options and my confidence.
Perhaps I need to use the Sticky Find-Your-Gun app. to see if they offer a holster that fits a .50…?
About the author:

"Heatherly makes you feel like you could survive on your own (for at least a little while) after reading this book (The Cave and The Sea)—not that I'm going to give it a try any time soon." –Forever Young Adult
"The Hunger Games smash hit book and movie got my daughter and one of her friends interested in archery. Maybe John A. Heatherly's novel The Cave and The Sea will do the same for teenagers regarding learning primitive survival skills…" –SurvivalCommonsense.com
"I don't throw the term 'life changing' around lightly but this book (The Survival Template) has very likely altered the way I think, the way I plan and the way I see my future as I've laid it out." –SurvivalMonkey.com.