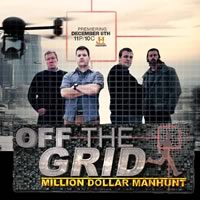 Kevin Reeve, the man in Emergency who taught Neil how to pick locks and escape from danger, has a television show premiering on the History Channel. Inspired by his onPoint Tactical Urban Escape and Evasion class comes the series Off The Grid: Million Dollar Manhunt.
"America has 30 million cameras recording four billion hours of footage each week. Everyone is being watched. Now witness host and master tracker Kevin Reeve give two everyday Americans the chance to escape this surveillance and win one million dollars. Contestants race to complete simple tasks and evade Kevin and his highly-trained team of trackers hunting them down with cutting-edge technology for the largest prize in cable television history. It's the adventure of a lifetime and it's only on The History Channel. This is Off the Grid: Million Dollar Man Hunt."
The hunt begins Thursday, Decmember 8, 11pm. ET. See site for details.