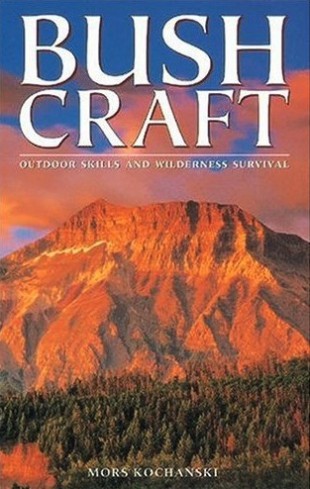 After a one-year hiatus from studying bushcraft I decided it was time to dive back in. While digging through a few articles on the subject I came across the name Mors Kochanski. It was not a foreign name to me, but I had never read any of his works or watched any of his videos. After reading a brief article on his Try Stick (article coming soon), I remembered his book Bushcraft: Outdoor Skills and Wilderness Survival ($16.95 US) was sitting patiently on a list of books to read.
Mors Kochanski is one of the bushcraft greats; especially when it comes to surviving in the Boreal forest of Canada. By some, he is even considered the forefather of modern bushcraft, as we know it today. Through the years Mors published roughly 16 pamphlets on the individual topics of bushcraft and wilderness skills until he finally published Bushcraft: Outdoor Skills and Wilderness Survival.
Bushcraft is written in a very Canadian tone; it's polite yet direct in such a way you expect it to call you dense any minute. Overall the material is presented in an easy to understand and easy to digest way. The concepts and instructions are not complicated. Early on, Mors notes that while there may be ten techniques to accomplish a task, he only included the techniques he actually uses on a regular basis and finds practical.
This is not a use a snakeskin as a urine canteen kind of book. The techniques discussed are not exotic in anyway. They are old fashion wilderness survival skills. It was quite refreshing to read a book that did not go out of it's way to dazzle the reader with a Macgyveresk scheme on how to survive when X happens (I do not exclude my own writings from that statement).
Two things that really stood out about the book is the inclusion of plentiful information about a bush knife and axe. Few wilderness books dedicate more than a page – at best – to the topic of a knife. This has always struck me as exceptionally strange given how important a tool the knife is in the bush. Axes are a topic also rarely covered in detail in wilderness survival books. Kochanski, on the other hand, goes on at great length.
Kochanski's early life as a draftsman is evident in the multitude of technical drawing style illustrations. These drawings are stuffed with information. One of the few problems I found with the book was that a number of the drawings were too stuffed with information. In several cases I found the drawings to be a little confusing given the number of different techniques trying to be conveyed in a single image. Kochanski also failed to state a view reference in any of his drawings, which lead to a couple puzzled looks on my face as I tried to figure out some of the cross sections. Having spent a good number of years with either a T-square in hand or fingers banging away at AutoCAD, I found this to be an annoying over-site. There were none that I could not eventually figure out, but still irritating.
Another shortfall of the book is the lack of water procurement or purification techniques. There is some, but it's extremely anemic. It was actually quit shocking to see it given such little print. The only other real short fall I found in the book was a reference to hares being rodents. It's inconsequential, but hares and rabbits are Lagomorphs. Once years ago thought to be closely related, now considered not to be closely related.
The book is densely packed with information, tips, and techniques. At just over 300 pages, not a bit of text or white space is wasted with anything anecdotal or useless. It should be noted before reading Bushcraft that the book is written from the perspective of someone whose decades of experience all comes from the Canadian Boreal forest. That taken into account, Bushcraft is an excellent book anyone interested in the topic should read.
For some strange reason, the price of Bushcraft is currently sitting at $81.94 on Amazon
. However, the listed cover price is $16.95; which is what it was a month ago when I purchased it. Other sites that carry the book still list it at the cover price. So, I assume it is just a pricing mistake.