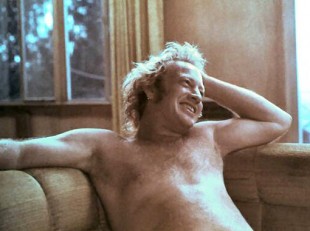 On March 24th at 8:40 p.m., John Williamson, one of the leading figures of the sexual revolution of the sixties and seventies, passed away from complications due to lung cancer. He was eighty years old. Williamson was best-known for creating the legendary Sandstone Retreat in Los Angeles with his wife Barbara.
Surprisingly, there has not been a single mention of Williamson's passing anywhere in the media or even a single website. So I called his wife and collaborator Barbara to talk to her about his life and work.
"He wanted everybody to be human beings—with an emphasis on being," she recalled. "He liked the idea of being a messiah of sex. He was bringing a message of cooperation, pleasure, equality, and freedom. And people weren't necessarily listening."
In 1968, Williamson purchased a secluded, decaying 15-acre estate nestled in the Topanga Canyon hills overlooking Malibu. He had a vision of creating a utopian experiment in which men and women lived together in total sexual freedom and equality, free of possessiveness and jealousy. So he began to gather like-minded people (mostly couples) who shared his disappointment with the current system, lack of meaning in the rat race, the patriarchy of the culture, and the tedium of common jobs and marriages.
In 1969, that renovated property became the Sandstone Foundation For Community Systems Research, a not-for-profit organization more commonly known as the Sandstone Retreat. As explained in the manuscript of a memoir Barbara is currently completing, it was created as "a retreat from artificiality…designed to promote human relations at all levels."
"I don't know a person who came to Sandstone and forgot it," Barbara said. "It was the highlight of their lives. It was the highlight of mine too, and it will always be."
The intentional community, and its philosophy that the human body and open expressions of affection and sensuality should not be sources of shame, soon became a mecca for everyone from film stars to anthropologists to rockers to factory workers to professors. The breadth of celebrity visitors ranged from Sammy Davis Jr. to Marilyn Chambers to Daniel Ellsberg, one of the military analysts who released the Pentagon Papers.
As Barbara puts it in her unpublished memoir-in-progress, "I can honestly say I saw more naked stars than any other woman in Hollywood."
Though it had its fair share of struggles, Sandstone never fell prey to the excessive megalomania, in-fighting, disorganization, drug abuse, control, and fissures that tarnished the reputation of many other utopian communities of the time, making it living proof that the free-love ideas espoused in science fiction novels by Robert Heinlein and Robert Rimmer could work in reality. For some, Sandstone created a gateway to the culture of free-love for the generation that was slightly older, and feeling left out of the fun and liberation: Just because a couple had married in more conservative times didn't mean they couldn't experience a sexual revolution together.
"Bob Rimmer is one of the people who coined the phrase that John was the messiah of sex," Barbara recalled when we spoke. "We had a good time with him, but all our friends are dead now."
John Williamson was born in 1932 in the swamplands of Alabama to Claud and Constance Williamson. His father was a hunter, fisherman and moonshine-bootlegger who had lost his left arm trying to climb a moving freight train; his mother was an introverted, studious woman who loved books.
His family lived in primitive conditions in a communal environment. It was a nameless place of woodlands, log cabins, and clannish families who came together and helped each other with procuring food, building shelter, doing chores, and raising children. John's first sexual experience was at the age of 12 with a slightly older cousin.
In 1949, John enlisted in the Navy and was briefly sent as an electronics technician to the American occupational forces in the South Pacific. In 1953, while working as a civilian government employee, he married an aspiring German anthropologist named Lilo Goetz and they soon moved to Florida so he could work for Boeing at Cape Canaveral. In 1957 he began working on missile support systems for Lockheed.
A series of tragedies—including the accidental drowning death of their five-year-old son and the loss of a big government assignment after Russians shot down the U-2 spy plane he'd been working on—led to a period of bitterness and heavy drinking for Williamson.
In late 1962, however, he discovered the novel Atlas Shrugged by Ayn Rand and developed a new outlook on life. He suddenly understood, among other things, that the type of life he'd been looking for could not be found but that he could create it. So he resigned his position at Cape Canaveral and moved to Los Angeles with his wife and their surviving daughter. They divorced a year later.
In 1966, when he was managing an electronics firm, John met Barbara Cramer when she attempted to sell him an insurance policy. Five weeks later, they got married in Las Vegas.
John's career ambitions began shifting from mechanical engineering to concerns for contemporary society and more esoteric topics, and he became interested in the work of Austrian psychiatrist Wilhelm Reich, who, among other things, believed that repressing emotional and sexual expression walled people off from happiness, connection, and ultimately life. Inspired by Reich and the human potential and connection workshops at places like the Esalen Institute in Big Sur, John decided to establish a community for couples where there could be an atmosphere that was sexually open, empowering to women, and free from jealousy, possessiveness, guilt, double standards, and lies.
In 1968, John resigned from his electronics firm, sold his company stock, and beat out pop-group the Monkees to purchase the half-million-dollar Topanga Canyon estate that would become the Sandstone Retreat.
To some, Sandstone was perceived as a sex club or swinger's retreat, but for John and Barbara, it was much more than that: an alternative lifestyle community and a sociological research center. As Barbara put it, Sandstone was "a university where people could learn to relate."
At its peak, there were 14 full-time residents, including the Williamsons, more than five hundred members, and a variety of facilities, all of which were clothing-optional—which led to a few legal battles with the county. When describing Sandstone's lifestyle and objectives, John Williamson said, "We believe in the sexual self as being at the core of organized social behavior. When sexuality is distorted, it leads to a distortion of the basic self."
It wasn't uncommon for visitors to see couples in various configurations embracing in the pool, or a husband talking through his jealousy with an understanding audience on the couches upstairs as his wife had her first extramarital sex experience on the mattresses of the basement Ballroom, its name derived from the slang of "balling."
"The nice thing about Sandstone is we looked at sex as being so positive, and we gave everyone permission," Barbara said. "We believed that the body and the mind were pretty good. And people should be free to experience an alternative lifestyle, and it unleashed some shackles. And all of a sudden, sex was pretty nice."
Contrary to what many detractors in the community tried to say, this kind of liberation didn't damage the Williamson's relationship. "Since we each had the freedom to enjoy people sexually and otherwise, it didn't put any strain on our marriage," Barbara said. "Our motto is: if we wanted to have a good marriage, we had to have a bigger one. And we lasted for forty-seven years."
Sandstone was financed by its club members who paid a $240-a-year membership, allowing them to come to the retreat and use the facilities whenever they desired. Every weekend more than a hundred people would come to copulate with strangers, participate in group sex, swap partners, and revel in natural beauty, complete sexual freedom, and a communal, tribal environment. During the day there was clothing-optional swimming, sunbathing, reading, and chess. At night, there were gourmet buffets, soft rock music, progressive discourse on the couches around the large fireplace, and orgies in the Playroom and the Ballroom.
The Sandstone Retreat was a seminal part of the sexual revolution of the 60s and 70s, and was written about extensively in the book Thy Neighbor's Wife by Gay Talese, in Hot And Cool Sex by Robert Francoeur, and in the 1973 edition of More Joy of Sex by Dr. Alex Comfort, among others. All of these writers, of course, spent a lot of time enjoying research at Sandstone. It was also the subject of a 1975 documentary called Sandstone.
In 1973, John and Barbara Williamson decided to close Sandstone Retreat and set their sights on an even bigger project to influence the culture. "Sandstone had been a great source of fulfillment, learning, and pleasure," Barbara explained. "It had been everything, in fact, except financially viable."
They'd planned to sell the Retreat to an alcohol addiction recovery center, but the Santa Monica Mountains were rezoned and businesses were no longer allowed to operate there. Eventually, Sandstone reopened in 1974 under the ownership of former members before closing for good at the end of 1976, due to financial difficulties. The property is now owned and occupied by a family that made its money in land development.
Leaving Los Angeles, Barbara and John Williamson went to the wilderness of Montana, along with a young chef from Sandstone. "We had hoped to build a tribal community up there to improve humanity and help make the world a better place," she explained "We planned salons with all the most beautiful scientists and religious leaders, where we'd discuss planning for the future and steering the culture in the best direction."
But this site of Project Synergy, as they called the isolated community for some one hundred people they were creating, was abandoned after the local government refused to let them build further on the property.  The following years were spent in a search for funding to take what they'd learned at Sandstone to the next level.
"The next step for us would be to have a more focused tribe, and see where it would take us. We've written some papers on sex and social stability, and John did a couple papers that were an overview of the culture and how the anti-sex movement can take the culture down."
At one point, a vice president at IBM asked them to submit a proposal for building a community that would nurture and create a future generation of creative leaders. But that proposal for Project Synergy was never funded.
Eventually, the Williamsons moved to the Bay Area, and then to a ten-acre property in Nevada. As soon as they arrived, a neighbor told them there were some "big cats" that were about to be killed because no one would take care of them.
"Being as innocent as he was, John he stuck his head in this tiger's mouth," Barbara remembered. "And from then on, they became the best of friends for the next seventeen or eighteen years."
Suddenly, the Williamsons had found their new passion: Instead of building communities for people, they worked on building them for tigers, lynxes, servals, lions, cougars, and other big cats, creating their own non-profit sanctuary.
"Much like Sandstone, we were studying bonding with the cats," Barbara said. "It was the most exciting life we could have hoped for in these last seventeen years with those cats."
Before his death, John was working to build what he and Barbara called Tiger Touch University Retreat, which would rescue, care for, and house up to 100 exotic cats, and also allow them a safe place to breed and prevent extinction. More information can be found at www.tigertouch.org and www.ttur.org.
"I was just laughing the other day," Barbara said, "because I was remembering just a couple months ago when John went to the grocery store with me. Within seconds, he was surrounded by women who were chatting to him—they loved his vibes and him as a human being. It was second nature for him to empower women. He always said to me, 'Women should run the world.'"
It wasn't until two weeks before he passed away that John was diagnosed with lung cancer, which quickly spread. He is survived by his wife Barbara, and his daughter and granddaughter, who live in Alaska.
"The only thing John ever promised me is that I'd have an exciting life," Barbara recalled. "And, man, he delivered on that big-time."
[pro-player width='410′ height='341′ type='video']http://www.veoh.com/watch/v7822423YHJNMyr5[/pro-player]
(Clip from VH1 Rock Doc, Sex: The Revolution)
Additional research by Laurie Griffin
Sources:
Interview with Barbara Williamson
http://hstrial-jwilliamson8.homestead.com/about.html
Thy Neighbor's Wife by Gay Talese
Hot & Cool Sex: Cultures in Conflict by Anna K. and Robert T. Francoeur
http://www.imdb.com/title/tt0158182/