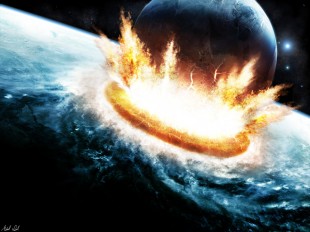 With the end of the Mayan calendar upon us, I took a moment to put together a special post. So if you feel like a prepper shopping spree, here are the contents of my "survival garage
," most of it gradually amassed while researching self-sufficiency and preparedness for Emergency. While it may seem like a lot at first glance, it's actually served the additional purpose of making my day-to-day life much easier, because it's so systematized.
Most of the supplies are daily essentials, mostly purchased at CostCo and Sam's Club. I use this stockpile as a mini-grocery store. Whenever I run out of something in the house, instead of going out shopping, I grab the replacement from my garage and mark it off on a list I have hanging there.
Then, once a month or every other month, I restock the garage with replacements for what I've used or what's expired. Note that your list should also include the dates of when items are expiring, so you know when to replace them. But by using your stockpile as an in-house convenience store, you'll be using most things before they expire, so they won't be going to waste.
Finally, for items like rice, beans, and flour that are in bags and sacks that could get nibbled at by pests, I purchased airtight five-gallon food storage containers
to keep them in.
Overall, the basic idea is that whether the electricity goes out for a day or all basic services disappear for a year, you can maintain the basics of your lifestyle without major discomfort, inconvenience, or interruption. That is, assuming you don't have to evacuate, in which case you'd turn to your bug-out bag instead.
Think of most of this list as a convenience store on steroids: it's meant to provide for two adults with no special medical or dietary needs (and in a moderate-to-warm climate). Note that it does not contain survival items that would normally be in the house: clothing, cookware, knives, reference books, home defense. On the other hand, it does contain a few unusual items that most homeowners either don't need to have (a Marine corpsman medical kit) or really should have (ThermoGel fire protection kit).
FOOD AND CONDIMENTS
4 packs of Bear & Wolf pink salmon (6 cans per pack)
5 packs of Member's Mark chicken breast (5 cans per pack)
3 packs StarKist tuna (10 cans per pack)
2 packs Kirkland albacore tuna (8 cans per pack)
3 packs Goya pinto beans (6 cans per pack)
1 25 lb. bag of Peak black beans
1 25 lb. bag of Riceland rice
1 5 lb. bag Bakers & Chefs wide egg noodles
1 pack Barilla spaghetti (20 boxes)
3 Green Giant corn niblets (8 cans per pack)
2 packs Del Monte peas (8 cans per pack)
2 packs Libby's potatoes (12 cans per pack)
4 Hunt's diced
tomato (8 cans per pack)
3 packs Dole mandarin oranges (8 cans per pack)
2 packs Del Monte sliced peaches (8 cans per pack)
3 packs Del Monte pear halves (8 cans per pack)
3 packs Dole's pineapple chunks (4 cans per pack)
2 packs Progresso beef and chicken soups (8 cans per pack)
2 packs Marie Callender chicken soups (8 cans per pack)
2 packs Campbells chicken noodle soup (12 cans per pack)
2 cans McCormick soup base, beef and chicken (16 oz.)
1 pack Barilla angel hair pasta (6 boxes per pack)
1 25 lb. bag of ConAgra flour
1 12 lb. bag of Arm & Hammer baking soda
1 25 lb. bag of Domino sugar
1 4 lb. box of Morton salt
1 pack Fleischmann's instant dry yeast (2 16 oz. bags)
1 jug Wesson vegetable oil (1.25 gallons per jug)
1 jug Wesson canola oil (1.25 gallons per jug)
1 jug apple cider vinegar (1 gallon)
1 bottle Tone's granulated garlic (26 oz.)
1 bottle Tone's granulated onion (26 oz.)
1 container Lawry's seasoned salt (40 oz.)
1 bottle McCormick black pepper (18 oz.)
1 bottle McCormick cayenne pepper (14 oz.)
1 bottles Kikkoman soy sauce (2 quarts)
1 pack Ragu pasta sauce (4 32 oz. bottles)
1 pack Heinz ketchup (3 44 oz. bottles)
1 pack French's mustard (2 30 oz. bottles)
1 bottle McCormick pure vanilla extract (16 oz.)
1 pack Lea & Perrins Worcestershire sauce (2 15 oz. bottles)
1 pack Honeytree organic honey (3 bottles)
3 packs Jif peanut butter (2 40 oz. bottles per pack)
1 pack Welch's jelly (2 32 oz. jars)
6 packs Bare Naked Peak Protein granola (12 oz. per pack)
2 packs Planters mixed nuts (2 56 oz. cans)
1 case Mountain House pilot bread crackers (6 cans per case)
1 pack Quaker Oats oatmeal (2 5 lb. bags)
4 boxes Balance bars (15 bars per box)
1 box of Sure-Pak meals (12 meals per box)
1 case MREs (72 meals)
4 packs Carnation evaporated milk (12 cans per pack)
1 pack Bob's dry-milk powder (4 16 oz. packages per pack)
1 36 quart Gatorade powder
1 tub Crystal Lite powder (44 packages)
1 pack Hershey chocolate syrup (2 48 oz. bottles)
2 cans Yuban coffee (44 oz. can)
1 pack Twinings variety tea (6 boxes of 20 bags)
SANITARY
1 Dawn dishwashing liquid (3 1-gallon-bottles per pack)
1 gallon Lysol disinfectant cleanser
(makes 256 gallons)
1 canister Lysol disinfecting wipes

1 pack Lever soap (16 bars per pack)
1 pack Oral B toothbrushes
(6 per pack)
2 packs Colgate toothpaste (4 per pack)
1 pack Glide dental floss (6 per pack)
1 pack scrubbing sponges (20 per pack)
1 pack Bounty paper
towels (10 rolls per pack)
2 packs Charmin toilet paper (36 per pack)
1 pack Playtex tampons (88 tampons per pack)
1 pack paper dinner plates (500 per pack)
1 pack Kirkland cutlery set (360 pieces pack)
1 pack red plastic cups (240 cups per pack)
2 rolls Professional Food Wrap (3000 ft per roll)
3 rolls Reynolds aluminum foil (1000 ft per roll)
2 packs ZipLoc gallon bags (52 per pack)
2 packs ZipLoc quart bags (54 per pack)
2 packs Member's Mark 33 gallon trash bags
(90 per pack)
1 Cleanwaste Pett portable environmental toilet (plus four packs refill bags)
3 packs Fresh Bath body wipe (8 per pack)
1 pack Huggies baby wipes (184 per pack)
2 bottles Purcell hand sanitizer (67.6 oz.)
1 pack Dove shampoo (2 25.4 oz. bottles)
1 pack Gillette disposable razors
(52 per pack)
1 pack Edge shave gel (3 cans per pack)
2 packs Degree deodorant (4 sticks per pack)
1 pack Q-Tips (1375 swabs)
1 pack Cetaphil moisturizer (2 20 oz. pumps)
1 pack Clorox bleach (3 182 oz. jugs)
1 gallon Campsuds
HYDRATION
8 packs Arrowhead natural spring water (48 8-oz. bottles per pack)
8 packs Ozarka natural spring water (6 gallon bottles per pack)
1 Katadyn Pocket Microfiler
1 emergency desalinator
2 packs Katadyn emergency drinking water tablets (30 tablets per pack)
1 bottle Coughlan's emergency drinking water tablets (50 tablets per bottle)
waterBob Emergency Bathtub Water Storage
MEDICAL
1 Dyna-Med BLS Xtra kit (contains all the EMS and first-aid basics: bandages, dressings, splints, burn sheets, eye wash, airway kit, waterproof tape, glucose, activated charcoal, antibiotic, iodine, cold pack, birthing kit, bee sting kit, forceps, shears, nitrile gloves, etc.)
1 Marine Corpsman bag (contains more advanced medical supplies, including a surgical instrument set, suturing kit, thermometer, tourniquet, syringes, IV fluid kit, QuikClot, and much more)
1 bottle Kirkland antihistamine tablets (400 per bottle)
1 bottle Kirkland antihistamine tablets, non-drowsy (300 per bottle)
1 bottle Kirkland ibuprofen tablets (500 per bottle)
1 bottle Tylenol Extra-Strength caplets (325 per bottle)
2 Mark 1 kits
2 EpiPens
Various antibiotics: amoxicillin, ciprofloxacin, levofloxacin, and cephalexin
1 box Latex gloves (1000 gloves)
1 tube Neosporin (1 ounce)
Iosat potassium iodide pills
1 bottle peroxide (32 oz.)
1 bottle rubbing alcohol (32 oz.)
1 pack Off insect repellant (3 bottles per pack)
1 pack Coppertone SPF50 Sunscreen (3 bottles per pack)
4 HEPA N95 respirator masks
1 box misc. First Aid supplies (extra gauze, bandages, tape, antibiotic, splints, etc.)
LIGHTING, POWER, FUEL
3 packs Duracell "AA" batteries (36 batteries per pack)
3 packs Duracell AAA batteries (24 batteries per pack)
2 packs Duracell C batteries (8 batteries per pack)
2 packs Duracell D batteries (8 batteries per pack)
1 pack Duracell 9-volt batteries (12 per pack)
2 20 lb. Propane cylinders
1 Helios High capacity Jetboil cooking stove (plus Jetboil frying pan)
1 pack Jetboil fuel (24 cans)
1 Coleman Perfectflow Propane Stove
4 cans Coleman propane fuel
1 14-gallon rolling gasoline can (with gas)
1 gas siphon tube
1 16 oz. bottle Sta-Bil fuel stabilizer
4 Kinetic car audio power cells and charger
1 Coleman power inverter
1 Honda EU 2000i generator
1 bottle Lamplight kerosene (4 gallons)
2 Coleman LED lanterns (with rechargeable batteries and pack)
3 kerosene lanterns
1 hand-crank lantern
1 solar-powered universal charger
2 packs solar lights (6 per pack)
12 boxes Diamond strike-anywhere matches
1 bag misc. lighters
1 Light My Fire Swedish firesteel
10 packs Uniheat warmers
1 shake flashlight
1 Streamlight stinger LED flashlight
2 Innovage LED lanterns
12 Rite Lite pivot-and-swivel puck lights
24 Sterno Emergency Candles
2 cans AlcoBrite Emergency Heat
1 cord of wood
MISC. UTILITY
2 can openers
2 packs Duct Tape (4 rolls per pack)
1 Denali home repair tool kit
Misc other tools, including cordless drill, axe, folding saw, gas shutoff utility, pry bar, bolt cutters, measuring tape, jigsaw, etc.
1 shovel
1 corded telephone
1 roll heavy-duty plastic sheeting
1 Sewing kit
Etc.
MISC. SURVIVAL
1 Thermo Gel Homeowner Fire Protection Kit
1 Rokon motorbike
1 Fishing pole and tackle kit
1 box flares
Misc. Burpee seed packs
Misc. emergency blankets
2 gas masks (with replacement filters)
1 bulletproof vest (Enforcer Eagle Classic–all-woven kevlar level 3a)
Brite-Strike Perimeter Infrared Intruder Security Alert
Paracord (1000 ft.)
Jute rope (100 ft.)
1 hand-cranked AM/FM radio
1 Yaesu ham radio
1 Bug Out Bag
1 mini-Bug Out Bag
Etc.
NOTE: I sent this to Tim Ferriss for his book The Four Hour Chef, and he had two questions:
Q: How much do you think it would cost to get all of this stuff?
The answer: Going out on a limb, I'd say $5000 (not counting the motorcycle). The thing about it though, if you think about it, is that the food is probably 2k. Sounds like a lot, but that's 40 meals at $50 a meal going out. So instead of a month and a half of food, you get a year of food for the same price. So the truth is, it saves money if you eat out less. In fact, now that I think about it, considering all the money we spend annually on phone, food, electricity, gas, water, etc., this is a much cheaper, more economical way to live.
Q: If you could only spend $500 on this, what would you buy?
For $500, I'd get lots of water, food basics, MREs, medical basics, lighting basics, and warmth basics plus the obvious (flashlight, radio, etc). The basic idea would be, assuming that you're safe at home, to provide all your needs for yourself for 90 days with rationing.