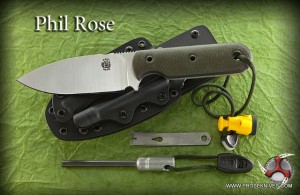 For this Veterans Day I would like to introduce you to one Vet who is hand crafting some of the most impressive survival knives around. Meet Phil Rose and his PSK (Practical Survival Knife) custom knife series ($300 – $500).
Recently I stumbled upon Phil Rose Knives and had the pleasure of spending an hour and a half chatting with Phil about his knives (full interview coming next week). What impressed me most about his knives is the thought that goes into the form follows function style designs. There is also the fact that Phil himself tests all the knives in the wilderness. They are not dreamed up by one person and made by another.
Every aspect of the PSK Series has a purpose and role to play in survival. They are not "tacticool" and there are no gimmicks. They are designed to assist you in the tasks necessary to stay alive.
With a motto of "No Safe Queens", Phil takes his pleasure from seeing his knives used instead of slumbering in a dark safe.
"There's nothing wrong with collecting knives. What I have an issue with is when people say they use their things when they don't actually use them. […] If you are going to buy a survival knife, get out in the field and better yourself – learn how to use it."
The quality commitment of Rose Knives is not lip service. When you talk to Phil, you know he is serious about the standard he holds his knives to.
"I have thrown away – I don't even know how many knives, because there was something wrong with them. I would rather grind it down to a nub and toss it in a trash can then let it go out the door. I've had guys wanting to buy seconds numerous times. There are no seconds."
The waiting list is long and Phil has become such a rising star in the custom knife world that he had stopped taking orders since March of 2010. However, he is opening a brief window
for orders.
"I am getting ready to start taking orders for a short time and I actually accepted an order today. I haven't gotten around to changing the website yet, but if anybody contacts me for the next 50 knives I am going to be accepting orders for the next 50 knives. Or, I should say 48 knives."
Don't miss next week's full interview with Phil Rose!
*
Related Stories from The Inner Circle
Ten Items to Make You Feel Safe Again
Friday Gear Report: July 22
5 Things You Should Never Leave The House Without