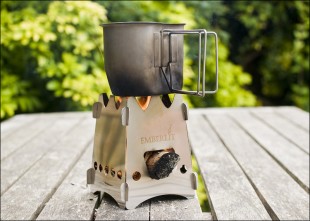 Back in September we introduced the Emberlit Stove. Since then I have been playing with it, testing it, and even carrying it around in my EDC. The conclusion, simply put, this is a great little stove.
There is a great story attached to this product. The Emberlit Stove may look like it was designed by one of the big camping companies, but it's actually a small business owner who hopes, "To just make enough money so my wife does not have to work at Walmart
anymore." After speaking with the inventor/owner/operator Mikhail, I got the sense that this is someone who really has his heart in his company and his product.
It's a story of ingenuity and triumph. In these trying times it's easy for some to throw up their hands and say, "Woe is me!" But, from a select few we see them rise to the occasion. The inventor, Mikhail, mixed two things he loves to find financial freedom for his family: the outdoors and tinkering.
When the Titanium version arrived it was in a heavy resealable plastic bag with simple instructions. While the packaging leaves something to be desired ascetically, the savings to the consumer are appreciated.
For a roughly 36% premium in price, you get a nearly 50% decrease in weight. The Titanium version of the stove weighs in at 5.45oz. versus the 11.25 oz. of the stainless steel. The Titanium Emberlit was light enough that I barely noticed its addition to my EDC bag over the last few months. For context, the iPhone 4s is 4.9oz. and the Blackberry Bold is 4.8oz. So, it's about like throwing another smart phone in your bag.
Yes, weight does matter. Every ounce you add to carrying weight burns more precious calories whether in a backpacking or a survival scenario. By itself the weight difference may not seem like much, but as you start adding things up it becomes an issue. However, if the $20 difference is going to make an impact in your life go with the steel as 11.45oz is still not that much weight.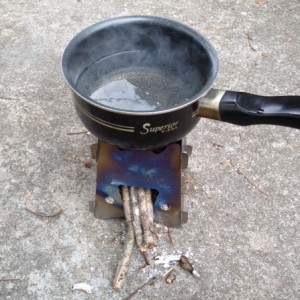 The construction is very well done and leads to a very sturdy product. But, the tolerances on the stove are tight. The fit doesn't make it exceptionally hard to put together, but takes a little effort to get it put together and break it down.
Aside from the fit, the only other issue I found was that hot embers do tend to fall out the dime size holes along the bottom of the sides. As long as you're paying attention and the area has been thoroughly cleared of combustible material, this does not create a major issue. However, it is something to stay aware of.
The real question is, how long does it take to boil water? Two cups of water (16oz) took just over 5 minutes to get a rolling boil, with constant feeding, in 57 degree
weather at sea level. Not amazing, but pretty darn good.
My final verdict is that the Emberlit Stove gets 4 out of 5 stars with the fit being the main detractor.
Also, seems the innovation bug is still biting Mikhail. Since I first came across the Emberlit Stove several months ago, Mikhail has made a few additions to the products he offers. There is now a pouch for the stoves and an adapter for placing smaller pots on the Emberlit Stove.
Promotional
video from Emberlit Stoves: