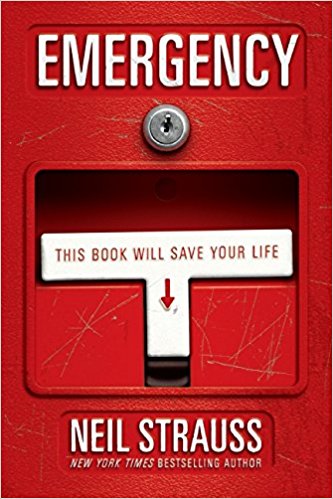 I've been wanting to write this email "rant" for about a month.  But I keep starting it, then stopping it. It's hard to get the tone right without showing too much frustration:
If I thought doing the media circus for The Game was tough, discussing Emergency has unexpectedly been even more of a challenge.
In about half the radio interviews I've done prior to last month, the host has asked, with some disdain, "Prepare for what? What do you think is going to happen?"
And then, suddenly, when the swine flu panic hit, those same people suddenly started calling and asking if I could do another interview offering their listeners survival tips.
Same thing happened after the California earthquakes last week.
We live in a world that seems to REACT to emergencies, rather than PREPARE for them. Leading to a situation in which the panic can be more dangerous than the disaster itself.
But why not prepare ahead of time?
It doesn't take that much time or money.
There's a certain peace of mind that comes from knowing that when the next inevitable panic seizes hold of people, not only do you know what to do, but you have the equipment and skills on hand to take care of yourself and those you love.
That's one of the reasons why I enjoy this list so much and the emails I've received from you. Many of you who've read Emergency have gone on not just to learn preparedness yourself, but to actually take CERT training and join volunteer rescue groups to give back to the community.
And so I thought I would try to give something back with this email, rather than just vent my frustrations about the hypocrisy of the media.
So I prepared a list for you of the ten most common myths about surviving terrorism, fires, earthquakes, um, shark attacks, and other emergencies both likely and unlikely.
Just like The Game, where I learned that many of the so-called common-sense things I learned about attraction were wrong, in Emergency I learned that much of the wisdom I learned growing up about survival was actually wrong.
And, in the right situation, the wrong survival tip can kill you (whereas the wrong sarging tip can only humiliate you).
So here is a little PDF of top ten survival myths, followed by the truth. It is dedicated to the woman I saw in the airport wearing an N95 mask during the swine flu panic while rubbing her eyes with her bare hands.
You can find it here:
http://www.neilstrauss.com/survivalmyths.pdf
(right-click to download)
Enjoy, and if you find it useful, pass it on. After all, as you're reading this, there may be a shark lurking in the bushes outside, just waiting to attack. Don't be caught with your guard down.
And don't forget, learning survival isn't just about not dying, it's also a great adventure.
To Life,
Neil