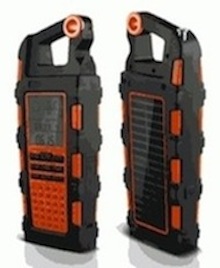 The Eton Raptor ($99) is a survival gadget with lots personalities to offer: "I'm a solar charger, I'm a compass, I'm an altimeter, I'm…"
The Eton Raptor fills 7 needs in a single rugged package:
Enhanced monocrystal solar panel
LED flashlight
Digital clock with an alarm
Compass
Altimeter
Barometer and thermometer
Bottle opener
With a 1800-mAh lithium ion battery and USB port for off loading that stored power to compatible devices, the monocrystal solar panel promises to keep your gadgets charged. The Raptor also sports a battery meter to let you know how much juice the battery has and a solar charge indicator to inform you that the panel is collecting light.
The digitally tuned multiband radio covers AM, FM, and NOAA with weather alerts.