In each episode of The Truth Barrel podcast, there was at least one book recommendation from either Gabby, Neil, and their guests—several of which are authors themselves.
…and some of the guests' books became bestsellers.
Your mission:  pick two of these books and promise yourself that you will read them in the first six months of 2018.
Read two of these books and you are guaranteed to learn more about improving your diet, lowering your stress, becoming a better sex partner, and strengthening your mind and body.
And when you're done reading, go back and re-listen to the author's episode recorded from inside the 220-degree barrel sauna with Gabby and Neil.
Although Amazon.com links are provided,  you can get a copy these books for free at your local library. You can go an extra step further and download the app OverDrive to read digital versions of these books once you're a member of your local library.
So for your benefit, below is a list of books written by various guests of The Truth Barrel Podcast that you can add to your reading list in 2018:
(in order of appearance on the show)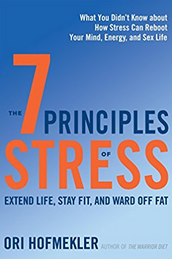 THE TRUTH BARREL EPISODE ARCHIVE:
Episode 56:
A Special Announcement from Gabby and Neil (plus the greatest coffee recipe of all time)
(11/14/2017)
Episode 55:
The Journey of the Adolescent and the Role of the Parent, with Gabby and Neil
(10/31/2017)
Episode 54:
How to Stay Positive and Balanced in the Eye of the Storm, with Brandon Jenner
(10/24/2017)
Episode 53:
How to Break Away from Overeating and Emotional Eating
(10/17/2017)
Episode 52:
A Love Story and Entrepreneurial Lessons from Richard Laver of Kate Farms
(10/10/2017)
Episode 51:
Rethinking Stress, with Ori Hofmekler
(10/3/2017)
Episode 50:
The Art of Writing & Selling Screenplays with Max Landis, part 2
(9/26/2017)
Episode 49:
Screenwriter/director Max Landis on the art of writing & selling scripts
(9/19/2017)
Episode 48:
PostSecret's Frank Warren on Exposing Your Deepest Secrets and Desires
(9/12/2017)
Episode 47:
Sex Expert Emily Morse on prioritizing sex and asking for what you want
(9/5/2017)
Episode 46:
Lessons on Recovery and Redemption from Bankruptcy and the Brink of Suicide with Asher Gottesman
(8/22/2017)
Episode 45:
Joakim Noah of the NBA Knicks in a rare and exclusive pre-season interview
(8/15/2017)
Episode 44:
Comedian & Actor Jay Mohr
(8/8/2017)
Episode 43:
The Art of Being Human with Neil and Gabby
(8/1/2017)
Episode 42:
Comedian Danny Lobell on the Art of Storytelling
(7/25/2017)
Episode 41:
Danny Cipriani – Life and Times of a Rugby Legend, Part 2
(7/18/2017)
Episode 40:
Rugby Star Danny Cipriani Opens Up On His Life On and Off the Field
(7/11/2017)
Episode 39:
Sex Guru Reid Mihalko on Casual Sex Protocols & Asking for What You Want
(7/4/2017)
Episode 38:
Rashard Mendenhall on the Transition from Super Bowl Champion to Ballers TV-Show Writer
(6/27/2017)
Episode 37:
The Ultimate Interview with Dr. Robert Lustig on What You Eat and Why You've Been Programmed to Eat It
(6/20/2017)
Episode 36:
John Salley (Part 2): The journey from NBA Champion to Vegan Gangster
(6/13/2017)
Episode 35:
NBA Champion John Salley on Getting Over Anger, Unhealthy Habits, & Self-Sabotage
(6/6/2017)
Episode 34:
Braveheart screenwriter Randall Wallace on living with integrity
(5/30/2017)
Episode 33:
How to Breathe for Maximum Health, Performance, and Relaxation (Plus Demonstrations), with Patrick McKeown
(5/23/2017)
Episode 32:
Somatic sexologist Jaiya Ma on Discovering Your Erotic Sexual Blueprint
(5/16/2017)
Episode 31:
Light Watkins on Meditation, Happiness, and Life After Death
(5/9/2017)
Episode 30:
Marvel actor Frank Grillo on persistence and discipline
(5/2/2017)
Episode 29:
Rapper Mikey Mike on how he scammed his way into getting a Grammy
(4/25/2017)
Episode 28:
Cleaning Up the Planet with legendary adventurer Alison Teal
(4/18/2017)
Episode 27:
Life inside an LA Sex Dungeon and opening the door to your secret fantasies with author Jenny Nordbak
(4/11/2017)
Episode 26:
Terrell Owens, NFL legend, on anti-aging, stem cell research, and becoming your own person, Part 2
(4/4/2017)
Episodes 25
Terrell Owens, NFL wide receiver, on Extreme Achievement and Confidence, Part 1
(3/28/2017)
Episode 24:
How to Handle Bullies: From the Playground to Adulthood
(3/21/2017)
Episode 23:
Genetics Researcher, Dr. Dan Reardon
(3/14/2017)
Episode 22:
Art of Charm's Jordan Harbinger
(3/7/2017)
Episode 21:
Matt Skiba of Blink 182
(2/28/2017)
Episode 20:
Solving Listener Dilemmas with Neil and Gabby
(2/21/2017)
Episode 19:
21-Year-Old Entrepreneur Jared Kleinert
(2/14/2017)
Episode 18:
Sex at Dawn author Dr. Christopher Ryan
(2/7/2017)
Episode 17:
Scott Carney, Investigative Journalist
(1/31/2017)
Episode 16:
Drummer Frank Zummo on the Rise to Rockstar Fame
(1/24/2017)
Episode 15:
Dr. Kelly Starrett on Best Practices for Daily Activities
(1/17/2017)
Episode 14:
Nick Ekbatani on What It Takes to Survive Tragedy
(1/10/2017)
Episode 13:
Michele Paradise on NLP & Psychological Healing
(1/3/2017)
Episode 12:
Kevin Reeve on Surviving Disasters, Revolutions, and the Apocalypse
(12/27/2016)
Episode 11:
Kai Nygard on The Cutting Edge of Longevity Research
(12/20/2016)
Episode 10:
Darin Olien Reveals The Truth About Superfoods
(12/13/2016)
Episode 9:
84 Hacks, Systems, and Gifts To Massively Improve Your Life – Gabby and Neil
(12/6/2016)
Episode 8:
Raising Children Without a Power Struggle and Building Healthy Relationships with Hand in Hand Parenting
(11/29/2016)
Episode 7:
The Acting Discipline and Raising a Child with Special Needs with John C. McGinley
(11/22/2016)
Episode 6:
Rethinking Medical Care & Childhood Vaccinations with Dr. Jay Gordon and Jake Peters
(11/15/2016)
Episode 5:
Changing Your Habitat for Better Health with John Durant, Part 2
(11/8/2016)
Episode 4:
Changing Your Habitat for Better Health with John Durant, Part 1
(11/1/2016)
Episode 3:
Laird Hamilton and Greg Long on Re-Evaluating Death to Improve Performance
(10/25/2016)
Episode 2:
Surviving Death with Marc Weingarten & Larry Miller
(10/18/2016)
Episode 1:
Mark Healey on Facing Fear, Surviving Shark Attacks, & Extreme Breath Holding
(10/11/2016)
Email your questions to Neil and Gabby:

[email protected]
Subscribe to the Podcast and Rate It on iTunes